The syndicate bank was founded in the year 1925 and is known as one of the major commercial banks of the country. The bank was formed with the minimum amount of investment and now it has crossed one million customers in the different branches of the country. The bank has been providing new facilities to their customers so that the customers become satisfied with their services.
Whenever you wanted to know about the balance in your account, then you had to go to the nearest ATM branch.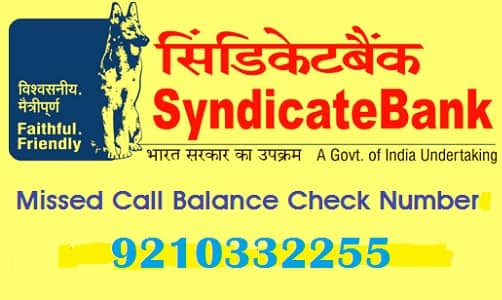 Register the mobile number to avail the service
The bank has introduced the unique and special service for their customers to check the bank balance. First of all, the customers would have to register their mobile number for availing the missed call service. You will need to send an SMS to the specific number to register your mobile number with your bank account. You will need to send SREG<customer ID> to the 9210332255 and then you will receive a confirmation message within few minutes. Your mobile number would be registered immediately with your bank account and then you will be able to check your balance while sitting at your home.
Missed call service
You will need to call on 9210332255 and then after few rings, the call will cut automatically. You will receive an SMS within a few seconds which would include the bank balance of your account. In the SMS, you will be able to see the last four digits of your bank account and the remaining balance in your account. This is the perfect solution provided by the Syndicate Bank to their customers for getting the knowledge of their bank balance and mini statement.
The missed call service is an advantage to the customers because they don't have to go to the ATM to check the balance in their account. This service is safe and secure because the information of bank balance can't be seen by any other person. It is unsafe in the ATM to check the balance information because it might be possible that someone else is looking while you were checking the balance on your account. For the security reasons and convenience of the customers, the bank has introduced this missed call and SMS service. The service is highly convenient because the customers don't have to go anywhere to get the knowledge of the balance of their account.