The Canara Bank which was founded in the year 1906 at Mangalore, India has become one of the largest public sector banks in India which is owned by the Government. The bank has total 10600 ATMs in the country with 6639 branches. There are various offices of this bank which is located in the foreign countries.
The bank is known for giving excellent services to its customers by taking new steps so that their customers don't get any kind of difficulty in availing the different services of the bank.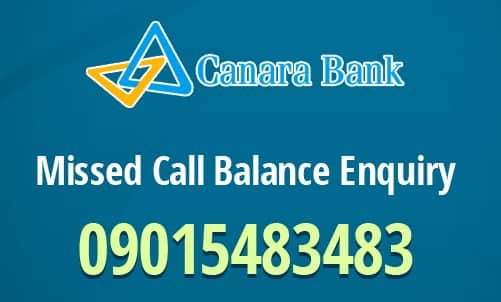 Whenever a person wants to check the balance in his/her account, then going to the ATM is the first option and if one can't go to the ATM because it is located far away or it is not in service. For providing the solution to this problem, the bank has started a missed call service for all the customers of Canara Bank. The facility can be availed by the customers who have got a mobile phone.
Canara Bank Balance Enquiry Number, SMS & Miss Call Details

This facility can be used to get the mini statement of the bank account by the customers using their mobile phone. The customers can call on the 09015483483 to know about the balance in their accounts. This solution is perfect for all the customers of the Canara bank to know about the balance and mini statement of their accounts. You will just need to dial this number for getting the information about your balance.
You can also get information on last five transactions by giving a missed call at

09015734734

from your registered mobile number.
After you will call on this number, the call will cut automatically after a few seconds. Within a few seconds, you will get the SMS from the bank which would contain your bank account number's last four digits so that you can confirm that the details are of your account. In the SMS, you will get the currently available balance information of your bank account.
How can the customers avail this missed call facility?
A simple procedure is required before availing this service. The customers can go the branch of their bank and do the simple bank procedures for adding this mobile number to their account. Make sure that you register you own mobile number with your bank account. After registering the mobile number with your bank account, you will get the opportunity to use this facility. After getting this facility, you won't have to go to the ATM for checking the balance in your account.