While doing online SBI net banking transactions or offline transactions, if you are having any problem at any time, you can file an online complaint. If you have lost your money during transactions because of some internal errors on SBI website net banking or because of wrong entry of data, read on. It often happens no matter what. This is where you may get complete info about the complaint process and how to resolve the issue ASAP.
How to File Complaint on SBI Online?
There is no need to go through a tough login or registration process to file a complaint to SBI online. There is a simple procedure for all customers to file a complaint at SBI Complaint Portal.
Here are the steps to follow –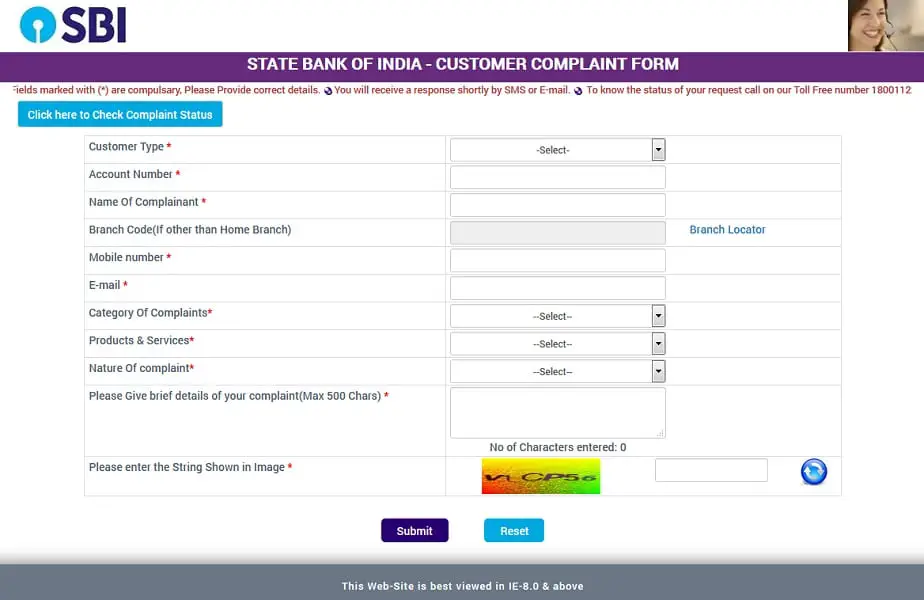 Choose your customer type (Prepaid Card Holder (non customer) or Existing SBI Customer).
Enter Name of Complainant, Bank Account Number,

Mobile

Number, Branch Code, and Email ID.
Choose Category of Complaint – Nature of Complaint and Related Product & Service, as applicable.
If you have problem about prepaid card, submit your Prepaid Card number.
Write your complaint in brief which shouldn't exceed 500 characters.
Enter Captcha and click "Submit" button.
Your complaint will be filed successfully.
Be sure to note your complaint number for future reference.
Checking SBI Complaint Status
Once you file a complaint on SBI, be sure to check complaint status from time to time. This way, you may stay informed about the actions taken by the bank from time to time to resolve the matter. The SBI Complaint Status dialog box will show up the message "Your Complaint has been Resolved successfully" and it will be closed by SBI, if your complaint is resolved successfully. To track or check your SBI complaint status, please follow these steps –
Visit https://cms.onlinesbi.com/CMS/ (SBI complaint portal).
Select the option "Click here to check Complaint Status" on the left side.
Enter your SBI complaint number and security code.
Click Submit to proceed.
It will show up the SBI complaint status on your screen.
Note down the status for your personal reference.
Contacting SBI Customer Care
If your complaint is still not resolved or you are unable to file complaint or cannot check the status, contact SBI customer care. Here are the Toll Free customer care numbers for SBI customers across India and abroad –
SBI Customer Care (Chargeable) – 080-26599990
SBI Customer Care Toll-free Numbers – 1800 425 3800, 1800 112211
SBI Complaint Form
SBI also offers offline complaint option for the customers. To file the complaint without phone, visit your nearest SBI Home Branch. You can get the complaint form for free at the bank branch. Fill up the form and submit it to the executive. Your SBI branch will resolve your complaint within few days.
Follow the link below to download SBI Complaint form online – https://www.sbi.co.in/portal/documents/42725/58089/SBI_OFFLINE_COMPLAINTFORM/35fd110e-20ce-47e9-8c31-0d5eba275baf
Keep in mind that you still have to visit your nearest SBI branch to submit the form. You cannot even check complaint status offline.
Final Words:
State Bank of India is a Government owned bank with 24000 branches and 59000 ATMs all over India. It is an old and renowned bank. The headquarter of the bank is in Mumbai, Maharashtra. SBI is one of the fifty largest banks in the world and has 420 million customers. SBI is most trustworthy among all classes from higher to below. The bank launches many facilities for the customer so that they can easily operate their account. One of this facilities is SBI online complaint which can save your time as well as solve your problem in a definite time.