The Punjab and Sind bank was founded in the year 1908 on 24th June and this is a government bank with its 1466 branches spread across the country. The bank is working towards helping their customers in getting better facilities and services. Among their many advantages, one of the advantages they have provided to their customers is the missed call facility to check the bank balance within a few seconds.
This facility is very useful for the customers as they can easily check their mini statement and bank balance.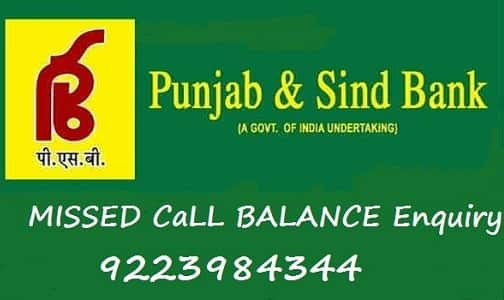 Missed call and SMS balance inquiry
For checking the balance in your account, you can go to the nearest ATM but it may be possible that the ATM might not be working. At that time, you can use the missed call and SMS provided by the bank. For availing this service, one will have to go to the bank branch and then complete the necessary procedures to add the mobile number to their bank account. The process of registration of the mobile to the bank account is not much difficult as the staff of the bank is highly co-operative.
After you have registered your mobile number to your bank account, you can get the advantage of using this missed call service. You will have to dial 9223984344 from your mobile number and then you will receive an SMS from the bank. The SMS would contain the last four digits of your bank account so that you can confirm that the balance information is correct. The SMS will include the balance of four accounts which are savings account, current account, cash credit and overdraft. You will get to know the details sitting at your home.
This facility is beneficial for a lot of customers who remain busy and don't have to time to visit an ATM or the bank branch. This facility can be availed by all the customers of Punjab and Sind Bank. This facility is also an advantage because it is not necessary that customers of the bank get time to even think about their balance in the daytime. It may be possible that at some hour of the night, they think about their balance in their account and at that time, this service can be the best way to check the balance. The customers won't have to visit the ATM at late night for checking balance in their bank account.