DCB offers free internet banking facility for all its customers, thereby enabling you to avoid standing in long queue at branches to access banking transactions. Now, the bank's simple, secure internet banking facility will provide you with excellent online banking experience. The service is completely free of charge, and is open to any individual account holder or sole proprietary firm.
By availing internet banking service, you can gain access to a range of features such as fund transfer, checking balance, opening fixed deposits, registering for mobile banking, paying utility bills, payment of tax, and a lot of other features,from anywhere in the world.
DCB Bank Net Banking Online Registration
To avail the internet banking facility:
=> Ensure that you register your mobile number and email ID with the bank when opening your savings account.
=> Visit the website dcbbank.com and register for Personal Internet Banking service. For this, visit the website and choose the option 'mobile banking'.Now, choose the 'personal internet banking' option.
=> Choose the sub-menu 'download form' and you will be transported to the link http://www.dcbbank.com/pdfs/Registration-for-DCB-Personal-Internet-Banking.pdf.
=> Fill the details and submit it to the DCB bank branch where you hold your account.
=> Else, you can visit any DCB Bank branch and submit the 'customer request form' duly filled in. The form can be downloaded from the link http://www.dcbbank.com/pdfs/Customer-Request.pdf.
=> The bank will notify your login ID and passwords on your registered mobile number or by sending mail to your registered address.
=> If you are a first time user, you can change your sign in password to the password of your choice. Generation of new password can be completely done online. In future, you may use the new password for future internet bank login.
DCB Bank Internet Banking Login
=> Login to DCB Bank Personal Internet Banking Visit this Page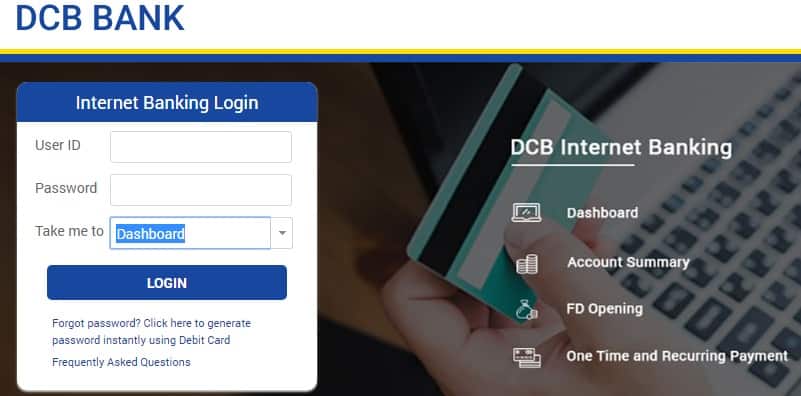 => Now Fill the user id & password and click to login to enjoy the internet banking facility.
For any more queries on internet banking registration, you can call the DCB toll-free number 1800 209 5363.