Kotak Mahindra Bank understands that time is money, and as the bank values your time, the bank offers digital banking facility or internet banking services so that you can carry on with your banking transactions 24/7 from anywhere in the world. To access the whole range of internet banking features offered by the bank, all you have to do is register for the service, and get it activated.
There are many ways to register for the net banking service offline, such as, personally visiting the bank and submitting a request form, or call the kotak bank customer care centre of the bank at 1860 266 2666 and requesting net banking registration, or by submitting the filled up form in the drop boxes of the bank, or you can also send the filled up form by post to the bank.
Prior to register/activate for internet banking service online, you will have to get your mobile number registered with the bank.
Kotak Mahindra Bank Net Banking Online Registration
To register/activate net banking online
Visit the bank official website

https://www.kotak.com

. Now click on digital banking, under there you will find net banking. Now click on login, it will land you to login page there click on the Register for Net Banking (visit

https://www.kotak.com/j1001mp/netapp/MainPage.jsp

)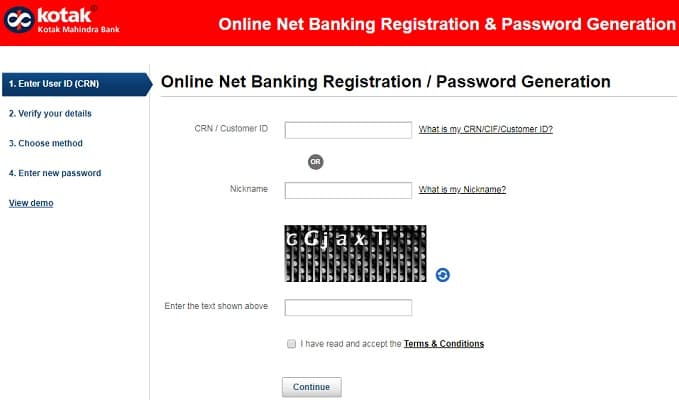 You will be transported to a login page that asks for your CRN /

Customer

ID. Here, you just have to enter your CRN as the number under your name mentioned on your Kotak Debit/

Credit Card

or SMS CRN to 9971056767 from your registered mobile number to know your CRN.
Another option is to choose to enter your nickname. Your nickname serves as an alternative to CRN, as it is easy to remember and has the advantage of not having to reveal your CRN. You can create your own nickname by logging into net banking, in the profile section.
Enter the captcha and click 'continue'.
You will be transported to step 2 wherein you have to verify your details by filling in the details asked therein, including your registered mobile number.
The next step is to verify your details using one of the four options provided therein. You can choose to opt debit card method, or the secret question method, or the credit card method, or request for a physical PIN mailer. However, you will be allowed to use only the applicable option available to you.
Proceeding further would depend on the option chosen by you. But, you can choose any of these to generate a new password and then go back to the login page and use your ID and new password to login.
I hope the above information helped you. For more detailed information visit here: https://www.kotak.com/en/digital-banking/ways-to-bank/net-banking/how-to-register.html.