State Bank of India commonly referred to as SBI offers a wide range of services that comes added with extra privacy and security features. SBI Personal Banking is one such service offered by the State Bank of India Online platform.
What is so Special about SBI Personal Banking Service?
Most of you would be familiar with the offline processes, which simply involve visiting the SBI branch with the passbook/cheque/ATM card to withdraw, transfer, or deposit the appropriate funds. However, the same things could be done via SBI Personal Banking but it is an online method. There is more than one advantage to SBI Personal Banking; this service allows the user to skip visiting the SBI branch and do the funds transfer with ease from wherever the account holder is.
How to Access SBI Personal Banking?
Currently, there are two ways to make use of the personal banking service.
Personal banking via sbi online website
Via official SBI personal mobile app
1. Personal baking via sbi online website – This SBI Personal Banking service could be accessed if you have a high-speed internet connection and a personal computer/laptop.
2. Via official SBI personal mobile app – There are official apps designed by the State Bank of India that allows the users to access the SBI Personal Banking service safely from anywhere in the world even if the account holder is traveling or is in a remote location with an internet connection.
You could use any one or both of the above-mentioned to access the SBI Personal Banking services with ease.
Features of SBI Personal Banking
SBI personal Banking is one of the most useful banking services provided by the State Bank of India group online. The functions that you could perform in this online portal are not limited to just what is possible via offline methods. Here is the list of functions
You could do DTH recharge and pay mobile bills through SBI Personal Banking portal or app
You could block ATM card through SBI Personal Banking
The SBI Personal Banking portal allows the user to deposit E annuity online
The SBI Personal Banking mobile app would allow you to perform internet banking
Allows you to apply e-life insurance cover online
Create smart payout cards and SBI virtual cards
The SBI Personal Banking portal and service would allow you to pay income tax
This service would allow you to transfer money to online Income Tax Savings Scheme fixed deposit
The SBI Personal Banking portal offers all the State Bank application forms
The online portal could be used to perform these E-Deposit functions
Flexi deposits
E-STDR
E-Recurring Deposits
E-Annuity deposits
E-TDR
These are major functions that you could perform using the SBI Personal Banking portal
Real Time Gross Settlement (RTGS) fund transfer
National Electronic Funds Transfer (

NEFT

) fund transfer
Immediate Payment Service (IMPS) fund transfer
SBI to SBI instant fund transfer
Trade funds transfer (NRI eZ)
Apart from all the above-mentioned services and functions the SBI Personal Banking portal could be used for
Paying all the taxes
Online E-Ticketing
Paying online exam fees
Mutual fund investments
TDS inquiry
These are the services and functions that are offered by the SBI Personal Banking Online portal and the mobile app.
The Systematic Procedure to Log into the SBI Personal Banking Account
If you don't have a State Bank of India account then this service cannot be used, in the same way, you should also have an activated internet banking facility on your SBI account. If you do not have an active internet banking facility then you will have to visit the SBI branch where you have your account and then place a request to activate the internet banking in your account by submitting the application form provided.
Once, the internet banking facility is activated, you would receive an internet banking kit that would have the user ID and Password, note down this user ID and password. Now, you will have to follow these steps.
Step 1: Open your web browser.
Step 2: Navigate to the official website of SBI or click here to go directly to the SBI website https://retail.onlinesbi.com/retail/login.htm
Step 3: On the page, you could find a fill-up form to enter username and password, enter these details and click the login button below.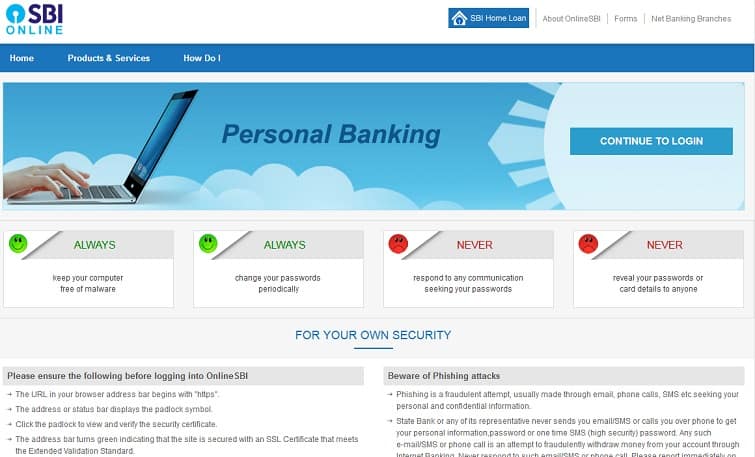 Step 4: Now, the page would be redirected to the SBI Personal Banking portal.
You could now use all the SBI Personal Banking services without any restrictions and with ease. SBI is one of the largest banks in India; the services offered are exclusive and top quality. All you have to do is simply follow the instruction mentioned above.