Lakshmi Vilas Bank Internet Banking helps customers to make financial transactions from anywhere on a secure platform, anytime, irrespective of their location. Now, with the internet banking facility offered by the bank, you can avoid long queues in the bank.
If you wish to avail Laksmi Vilas Bank internet banking facility for services like block / unblock atm card, cheque book request or register an online complaint you can approach any branch of the bank to obtain the application form for internet banking, or directly download the application form from the bank website www.lvbank.com .
Using the internet banking services, you can do all banking transactions online including the transfer of funds, viewing account statement, online changing of PIN, online loan repayment, cheque book request, opening and renewal of term deposit, and a host of other facilities. Now, the LVB internet banking comes with enhanced security features such as secret question and answer, second-factor authentication using OTP etc.
Lakshmi Vilas Bank Net Banking Online Registration Details
To register/activate the internet banking facility at LVB, you first have to register your mobile number with the bank branch where you hold an account. Once your mobile number has been registered with the bank, follow these steps to activate the internet banking facility:
Visit the bank website

http://www.lvbank.com/

.
Click on the tab 'online services'.
On the right-hand of the page, you will see the tab 'Form Centre'.
Choose the 'Form Centre' tab and click on the 'net banking application form', and download the appropriate form (retail or commercial or mandate) depending on your need.
Fill in the requisite details, and submit the form to the bank.
The bank will mail you your user id and password through the mail.
Now you can click on the 'login' icon and activate your user-id online by clicking on 'New User Activation' link
Feed in your net banking login, which is similar to the customer ID, and click on 'submit' button.
Enter the OTP that is sent to your registered mobile number by the bank. Also, enter your reference number seen on the front page of the internet banking PIN mailer.
Thereafter, enter customer id and click on the 'Submit' button.
You will receive a message saying your activation is successful.
Lakshmi Vilas Bank (LVB) Net Banking Login Details
For Login To Lakshmi Vilas Bank Visit the official website here: http://www.lvbank.com
Now click on navigation tab Online Services, on the right hand there is Net Banking tab, Under that, there are two options Retail and Corporate. Select any of them and click to login. For example, i click on retail and log in it and its land here: https://www.lvbank.com/Retail.html
Now click on "Continue to Net Banking" it will land you to the next page, now submit here login id and password get the access of your online banking.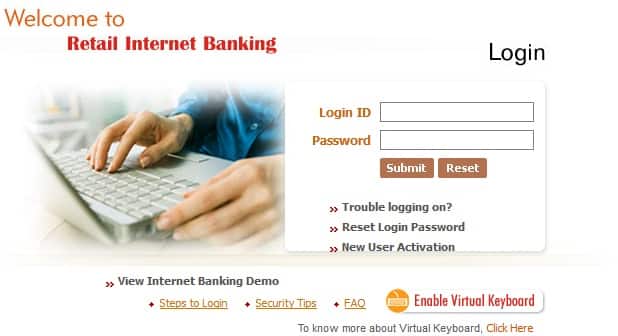 For activating the Inet user id email at activateinet@lvbank.in or, for other net banking related queries ( Unlocking, Resetting, etc ) email at netsupport@lvbank.in. The Toll-Free Number is: 1800-425-2233