Standard Chartered Bank is a multinational bank, which is established in London. The bank has got 87,000 employees and caters to the needs of billion consumers. The bank is one of the finest and commendable institutions for banking services. The bank is basically a retail bank, which caters to the needs of the consumers from small business.
The bank came under several alliances, to expand them and become one of the most powerful banking institutions. The bank is also a wholesale bank, which looks after the needs of the clients from around the globe and takes up the financial needs of big businesses.
Standard Chartered Bank Online Banking Registration

Standard Chartered bank came up with services in terms of banking and further tried to provide convenience and ease to the consumers. That is why; the bank introduced the option of net banking and online banking. The advantage of this was that the consumers will be able to carry out the banking transactions round the clock.
In order to access the services of net banking and online banking, the consumers need to register online on their official website https://www.sc.com/in/. Step by step procedures is to be followed to access the online banking services.
How to Register/ Activate Standard Chartered Bank
Open the official website of Standard Chartered bank and select the option of online banking on it or visit directly here: https://ibank.standardchartered.co.in/nfs/login.htm. Select the Instant Registration option under "New to Online Banking? " and accept the terms and conditions given there.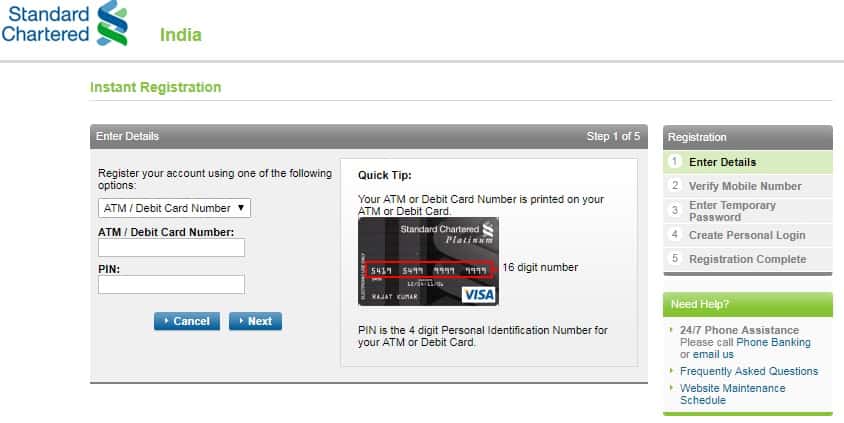 Fill in the details of your account such as your debit card number and the debit card pin. One time password shall be sent to your registered mobile number. This is to be entered there, for signing up for net banking or online banking.
Select the username and the password for net banking or online banking activation. Then login in your net banking account using these credentials.
You can simply login here by following this URL: https://ibank.standardchartered.co.in/nfs/login.htm
Please note for new online banking registration you must have registered mobile number with the bank and your debit/credit card. Without these, you will not able to register for online banking.
Related Topics:
Standard Chartered Bank Mobile Banking – How to do
How to Generate/Change Standard Chartered Bank ATM Debit Card Pin
Standard Chartered Bank Credit Card Eligibility & Documents Required