Are you a Bank Of India (BOI) account holder and want to get net banking facility online? Let us help you how to register first time and activate net banking of BOI by following very simple steps.
Bank of India was founded on 7th September 1906 in Mumbai by three eminent businessmen. This bank was under private ownership before it was nationalized on 19th July 1969 along with other 13 major commercial banks. This bank has over 5000 branches across the country, 60 associated branches and 5 subsidiary offices abroad and a joint venture. This was one of the popular banks that started its operations with a capital of Rs.50 lakh and 50 employees. This bank became a public issue bank in 1997. Bank of India has 54 zonal offices and 8 NBG offices. The bank is operating around the world in 22 countries across the 5 continents.
BOI Net Banking Online Registration For New User

=> To register for internet banking, you should have your name, account number, ATM card, debit card cum ATM card pin and the credentials of debit card handy.
=> You should submit your KYC details in your home branch of Bank of India.
=> You should have a registered mobile number with your bank account.
=> To register for internet banking facility, you should go to official website firstly: https://www.bankofindia.co.in/english/home.aspx, then select Online Registration for Net Banking under the online services tab.
=> Now Click on it, a new tab will open and it will ask your account number and registered mobile number submit it and enter the captcha displayed to show that you are not a robot.
=> Then you can get your internet banking user id online if you enter the correct details.
=> You will get password through email or SMS and sometimes you can get the net banking pass word by post.
=> You can register for internet banking using that password.
=> Once you have activated the internet banking facility using that password, remember to change your password for safe and secure access to internet banking.
For offline procedure you can download BOI Internet Banking form here to submit into the bank for online banking facility.
BOI Internet Banking Login Guide
After successful BOI online banking activation, now you can login in it via here: https://www.bankofindia.co.in/english/home.aspx
By following the above link you will see a tab Internet Banking on the right side of the website. There are three options "Retail, Corporate and Global". Choose one of them as you need to login.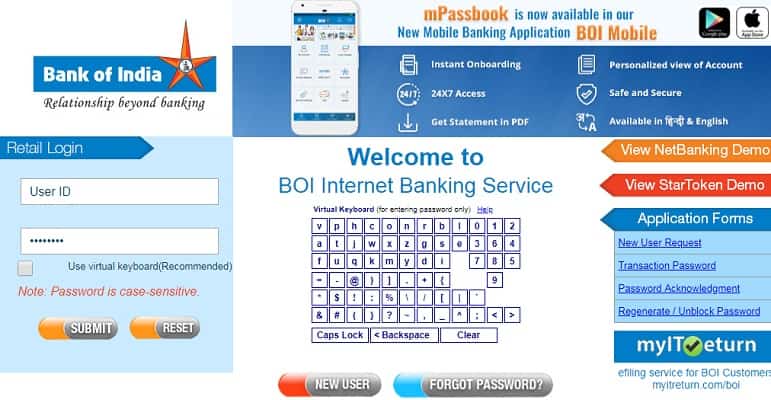 For example i clicked on retail, after that fill your login user id and password and click to submit. Now you have access of your online banking.
Related Topic: