Union Bank of India is one of the major government owned banks of India. It was established on 11th November 1919, headquartered in Mumbai. UBI is focused on prudential management without ignoring opportunity.
It aims to provide secure financial management options to its valued customers. Some of its most advanced and client-friendly are features are internet banking and mobile banking facilities.
Registration process
Order to apply for net banking through the online media, a client of UBI required to furnish personal details such as
1. Name of branch
2. Customer Id
3. Communication address
4. Residential address
5. Contact information(Phone no. and email id)
6. Date of birth
7. Mother's maiden name
8. Permanent Account Number(PAN)
In the further sections, client has fill in other details such as details of other accounts to be linked with this account. If there is a joint account holder, the user needs to fill the mode of operation.
You can also download application for union bank e- banking (Retail/Corporate) – https://www.unionbankonline.co.in/Upload/IBApplication.pdf
Existing customers can call on the toll free number 1800222244 to get answers to queries regarding net banking facilities and procedures.
To initiate the net banking procedure, the first step is online self user creation. This is followed by self password reset. To understand the registration process carefully, one must access the page https://www.unionbankonline.co.in/InternetBankingProductDemos/InternetBankingProductDemos.html.
UBI Internet Banking Online Registration Guide

For internet banking registration you must have atm or debit card with pin.
-} First visit the official website here: https://www.unionbankonline.co.in/ now check the left site navigation and click on Self User Creation.
-} Now a new window will open and you can find there two options,
Online Self User Creation – Retail users having Debit Card

Online Self User Creation (View Facility Only) – Retail users without Debit Card
clik on "Online Self User Creation – Users having Debit Card"
-} Fill the all requirement details such as account number, date of birth and pan card number within 3 minutes otherwise session will expired. After filling the form submit it and next enter your debit card number with pin.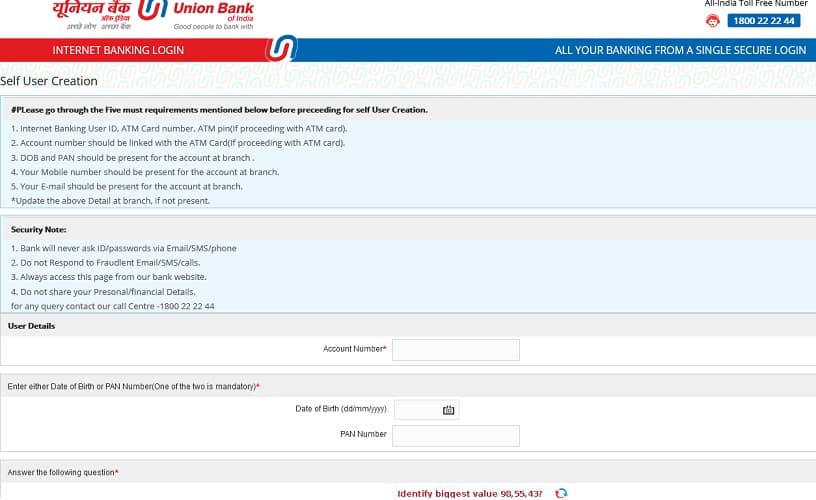 -} In transaction amount option mention any amount and in transaction type you can select debit/credit. after that you will receive an OTP on your registered mobile number.
-} In next step it will show user id and name. The user id is your customer id that you can find on your passbook. Now set your Login Password and Transaction password.
-} It will take 24 hours to successful registration of the process.
Benefits of internet banking account
Once registered for online banking with UBI, he or she is entitled to receive benefits. These are
1. Transfer of funds to another account in different branch
2. Transfer of funds to other bank accounts using RTGS.
3. Online payment of Direct taxes
4. Online payment of Utility bills
Net banking users have the highly secured facility of putting their digital signatures for significant online transactions. To avail this application, net banking users have to upload their digital signatures on the bank portal with their other personal details.
if you receive any email/SMS or Phone call that asking for your pin number, otp and user details. Please report immediately on [email protected]