Are you sick of using different apps of a saving banking institute for availing different services? Well, you might surely be sick as well as confused because of so many apps and logins on your phone. Have you ever imagined a single app for all the banking services? State Bank of India made this wish turn into a reality by launching a new banking app which is called YONO. You might be thinking what YONO is all about. Well, YONO stands for You Only Need One and this name is given to the app because it can provide you with all banking services in one single interface.
What are the Services Offered by SBI YONO?
YONO App offers all types of banking, insurance, investment, shopping and lifestyle services. You name it and the app has it. You can apply for a loan with help of the app and you can even shop online. These are the additional services that are offered in addition to the digital banking services. The app also lets you open a bank account within 2 minutes if you have an Aadhaar card. As per the information available, the State Bank of India is going to offer all the services from its subsidiaries on this app.
Another add-on point about this app is that the app is going to integrate services from 6 e-commerce websites and these services will be offered to you via SBI YONO App.
SBI YONO App Download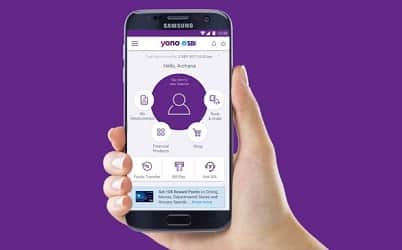 So you can uninstall multiple apps and install SBI YONO App. It is quite simple to do so and all you need to do to install the app is that you need to visit the app page on Google Play Store or App Store and download the app.
To download the App on Android, visit the Google Play Store by clicking on the link https://play.google.com/store/apps/details?id=com.sbi.lotusintouch&hl=en_IN
To Download the App on iOS, visit the App store by clicking on the link https://itunes.apple.com/in/app/yono-by-sbi/id1231393474?mt=8
SBI YONO Account Opening
The best feature that is being offered by the banking institutes these days is the feature to open the bank account instantly. This just needs your personal information along with the Aadhaar details. Once you enter the details and validate your Aadhaar number, your account is opened instantly. The same can be done with help of SBI YONO App. Here is the procedure to open the SBI YONO App.
After installing the SBI YONO App, initialize the app and you will see two options there. You can choose between open New Digital Account or Insta Saving Account. Choose the account that you wish to open.
On the next screen, you will have to click on the Apply Now Button. Once that is done, simply click on Apple New and read about the features of these new services. Click on Next to proceed further
Once that is done, you can then enter your details which are requested. You will also have to enter your PAN Number and Aadhaar Number here. Validate the Aadhaar Number with help of the OTP Number that you receive on the phone number.
After entering the details, click on the submit button and the account information will be displayed to you.
It should be noted that if you are an option for Insta Saving Account then you will not have to visit the branch to open the account, however, if you are opening a Digital Bank Account then you will have to visit the bank once to activate your account. The only limitation of SBI Insta Savings Account is that you can't deposit over Rs 1 Lakh in this account and in addition to this you can't do an annual transaction of over Rs 2 Lakh. You can convert the Insta Saving Account to Digital Saving Account at a later point in life by visiting the branch and requesting for same.
SBI YONO Online Login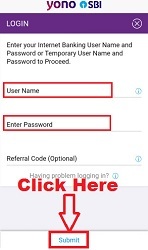 It is quite a simple process to login to SBI YONO App and it just requires one-time registration which is free of cost. Follow the process listed below to login to YONO App.
Once the app has been installed, initialize the app and start the registration process. You have two options here. You can either click on Register via Account Number or Register via Internet Banking.
In the next step, enter the details requested. If you choose Account number then you have to enter the details of the

ATM

Card and the ATM Pin. If you choose Internet banking then you would have to enter Username and Password.
Accept the terms and conditions to set up an MPIN for logging in to the SBI YONO App. You will have to validate this request by OTP and hence enter the OTP you receive. Once that is done, you have successfully registered for the app.
You can now log in to the app by simply initializing the app and entering your MPIN.
SBI YONO Helpline Number
SBI YONO also has a dedicated helpline number which is available 24 x 7. You can simply call on 1800 111 101 to get support in regards to SBI YONO App. Apart from this, it should be noted that if you are not willing to install the app then you can also visit the SBI YONO website to get any service that is available on the app. The link for the SBI YONO website is https://www.sbiyono.sbi/